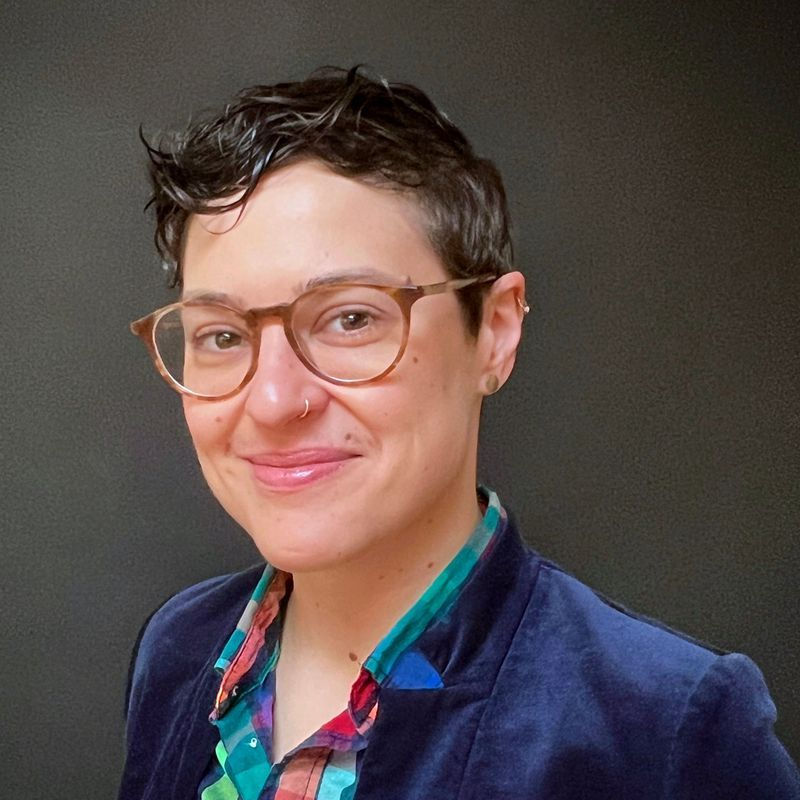 Jess M. Jones, LCSW, LCSW-C
Licensed Clinical Social Worker (Pennsylvania and New Jersey), Licensed Certified Social Worker-- Clinical (Maryland)
I have worked with many clients who have survived significant traumas, who feel anxious, depressed, overwhelmed, suicidal, hopeless, and explosive. While non-ordinary states of consciousness can bring about huge shifts and significant healing, a lot of murky and scary material can also surface. Every part of you is welcome, shadow and light. We can yearn for change while also feeling scared of what it might really bring. Ketamine-assisted therapy and psychedelic integration therapy can be opportunities to slowly understand and befriend your unique complexities and inner world so you can feel more at ease.
I'm a licensed clinical social worker with expertise in trauma-informed and evidence-based psychotherapies for adults, families, and children. I've also trained in legal psychedelic-assisted psychotherapy models using ketamine, MDMA, and psilocybin. Currently, I'm working as a study therapist in clinical research using MDMA and psilocybin. I believe authentic relationships can be good medicine and that intergenerational cycles of trauma can be interrupted and healed. Issues of power, privilege, and systemic oppression are important and welcome in therapy. I aspire to anti-racist and culturally curious practice. Some of my identities are white, female, queer, Latina, spiritually-oriented, and able-bodied. I was raised Catholic and speaking Spanish and English in a bicultural household with an immigrant mother. From 2017-2022, I worked at a community mental health center within PennMedicine as a clinician and eventually a supervisor and program manager in the PHIICAPS program. PHIICAPS provides community-based intensive and brief attachment-oriented and trauma-focused family therapy, crisis support, and case management services to families where a child/youth has experienced psychiatric hospitalizations or other out-of-home placement. ​I'm certified in TF-CBT (trauma-focused cognitive behavioral therapy), EMDR (eye-movement desensitization and reprocessing therapy), and priCARE (Child-Adult Relationship Enhancement). I've also taken intro courses in MI (motivational interviewing), ABFT (attachment-based family therapy), CBT (cognitive-behavioral therapy), exposure therapy for anxiety disorders (CBT Unified Protocol), Hakomi mindfulness based somatic therapy, and SE (somatic experiencing). I trained in KAP (ketamine-assisted psychotherapy) with Polaris Insight Center. I've nearly finished training as an MDMA-assisted therapist with MAPS and am certified in the EMBARK model with Cybin. I'm licensed in Pennsylvania, New Jersey, and Maryland. Daily meditation and yoga practices have shaped my life for over a decade. I completed a yoga teacher training (RYT-200) with Three Sisters Yoga in 2011 as well as a variety of certifications in teaching yoga in schools, with adolescents and adults experiencing homelessness, and incarcerated individuals. I have also completed several meditation retreats (vipassana in S.E. Goenka lineage 10-day and 3-day; tantric yoga meditation in Ananda Seva lineage at Dharmalaya in Eugene, OR, and others). My main practice is the Shambhala Tibetan buddhist approach taught by Pema Chödrön.
I offer ketamine-assisted therapy (sub-lingual), psychedelic integration therapy, and child, adolescent, and family therapy. Services can be provided in-person at my office in Philadelphia or via Zoom in Pennsylvania, New Jersey, or Maryland. I collaborate with prescribers trained in psychedelic medicine for ketamine-assisted therapy evaluations. Child & Family Psychotherapy and Psychedelic Integration Therapy: 60-minute session: $100 60-minute session for BIPOC and/or transgender/gender-transitioning clients): $75 75-minute intake: $125 75-minute intake for BIPOC and/or transgender/gender-transitioning clients): $100 Ketamine-Assisted Psychotherapy: 60-minute KAP Prep and Integration Sessions: $100 60-minute KAP Prep and Integration Sessions for BIPOC and/or transgender/gender-transitioning clients: $75 KAP session: $100/hr, minimum 3 hrs of dosing and integration 75-minute KAP Intake for new and current clients: $125 75 minute KAP Intake for BIPOC and/or transgender/gender-transitioning clients: $100 I also hold several pro-bono (free) and low-bono ($20/hr) spots for clients, especially uninsured/undocumented folks, so please let me know if costs are a burden for you. ​ I can generate a superbill for you to submit to your insurance and will work with you to optimize reimbursement. I'm credentialed with Blue Shield/Magellan Behavioral Health, Quest Behavioral Health. I'm in the credentialing process with Medicaid/CBH in Philadelphia. I'm licensed in Pennsylvania, New Jersey, and Maryland.