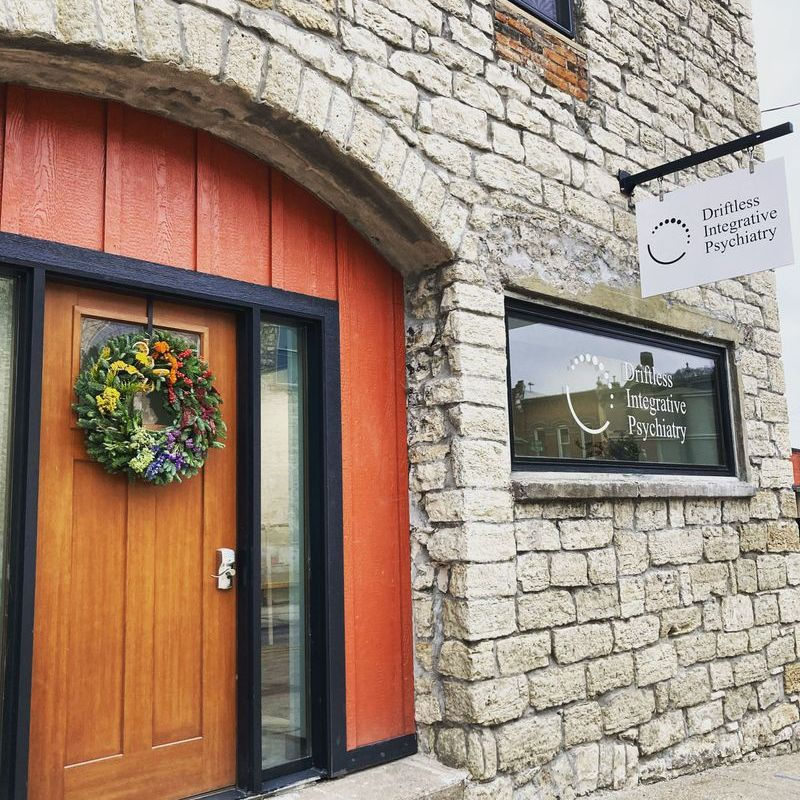 Driftless Integrative Psychiatry
Individuals across the states of Iowa, Minnesota, and Wisconsin (in tiny towns and big cities) are patients here at Driftless Integrative Psychiatry by video or in person. We are located in the heart of the Driftless Area, next to the Mississippi River. Our clinic is within a 3 hour drive of the Twin Cities, Madison, Iowa City, Waterloo, Rochester, Cedar Falls and within a 4 hour drive of Milwaukee and Des Moines.
Driftless Integrative Psychiatry is a holistic psychiatry clinic located in the heart of the Driftless Region in the Midwest offering thoughtful medication prescribing, supplement optimization, ketamine assisted psychotherapy, and nutritional psychiatry. We are not owned by a large corporation or company. Your care is truly personalized. We believe in providing very high quality care over seeing lots of people all in one day. You are a fellow human being - not a number. Integrative means a "both/and" philosophy that is more fluid and flexible. Yes, medications might be helpful for you but we might consider and utilize other treatment options. We care about root causes and truly effective solutions, aligned with your goals and values. We're proud to be the first clinic in Iowa to offer psychedelic-assisted psychotherapy with ketamine- a legal, effective, and profound catalyst for inner transformation. We are passionate about safely and thoughtfully expanding psychedelic assisted psychotherapy to those living in Iowa, Wisconsin, and Minnesota as the research continues to evolve.
- Ketamine assisted psychotherapy for health care providers - Ketamine assisted psychotherapy - Accelerated resolution therapy - Nutritional psychiatry - Longitudinal integrative psychiatry care