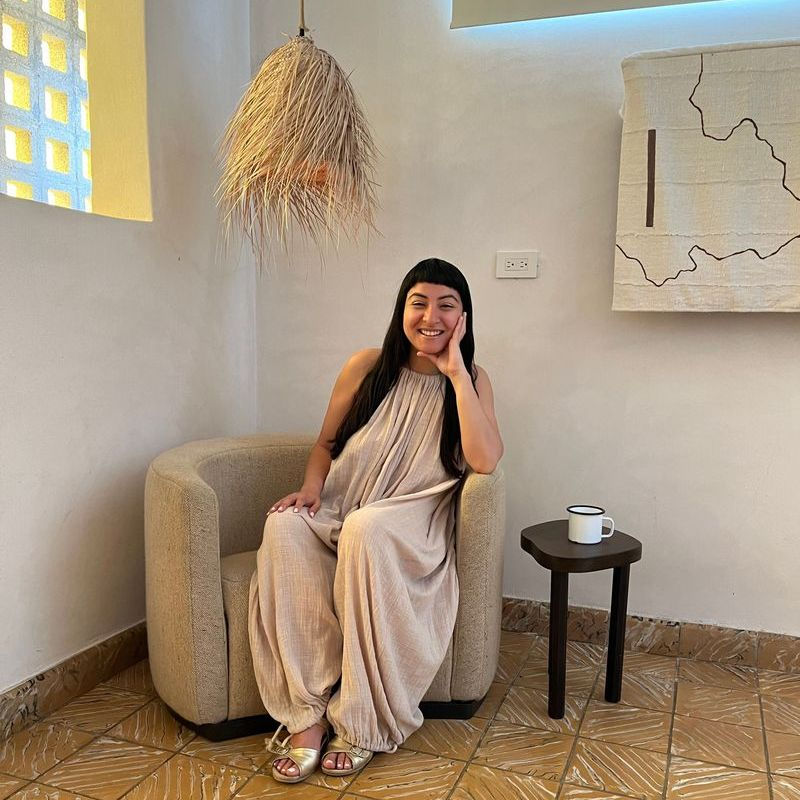 Juanita Viera, LCAT
Licensed Creative Arts Therapist
In our sessions, clients can expect to be surrounded by authenticity, compassion, warmth, humor, creativity, play and empowerment. Clients can expect to explore their strengths, identify passions, and develop creative coping tools for nervous system regulation before delving in. Clients will be invited to connect to stories about adverse childhood events, to the negative core beliefs about self and the world, that may be underlying symptoms. Together, we can work to reframe cognitive distortions and redirect unhealthy habits. We can also investigate any environmental factors and interpersonal distress to problem solve and resolve these stressors. Clients can share openly about systemic factors impacting them. Art can be used to safely give voice and make visible these internal experiences of emotions, thoughts, and memories when words are insufficient. Clients will be guided to identify values and connect with goals for their future through fun, easy, creative activities through painting, collage or vision boarding. In between sessions, clients are encouraged to make self-guided art, learn communication skills, meditation, yoga, journaling, complete worksheets for CBT skills practice and spend time in nature and with others. Ultimately, clients will be able to reconnect to themselves with compassion and to their communities. If you're ready for an upgrade from harmful internal programming to create the life you want, reach out for a complimentary 15-minute phone consult today!
Juanita Viera, LCAT, Licensed Creative Arts Therapist is a trauma-informed therapist based in Williamsburg, BK. She identifies as a "Nuyorican" born and raised in the Bronx by her Puerto Rican family. Before working in private practice, Juanita gained extensive clinical experience at various NYC settings with at-risk youth, elderly, immigrant, and substance abuse populations. She is familiar with the effects of Intergenerational Trauma and mixed identity issues as well as urban city living. She is inspired by the ways the arts strengthen the mind-body connection, the unique voice, creativity and resilience of an individual or an entire community. She came to Ketamine therapy work through her adventures in immersive art events and art studies which led to spiritual healing from religious oppression and personal transformation. If you're curious to learn more about Expressive Arts Therapy and Ketamine Assisted Psychotherapy, contact Juanita for a free consult at: jjvarttherapy@gmail.com. You can send a phone call request via text at: 470-851-0466.
I provide virtual or in-person Ketamine-Assisted Psychotherapy (KAP) in collaboration with the Journey Clinical medical team. Journey Clinical makes it accessible for people to work with the therapist of their choice for Ketamine treatment for chronic issues of depression, anxiety disorders and complex PTSD. You can journey in the comfort of your own home, with a curated playlist or at our cozy soothing studio in Williamsburg, Brooklyn with live sound healing by our music therapist. We will be there to assist you with curious and calm presence. Careful screening and intake session are required before referral to a prescriber is made. Prep and Integration is an important container - we can use art therapy, music curation, spiritual/mindfulness exercises, and traditional talk therapy, ceremonial practices as well as your own practices from your cultural traditions. We can set intentions to alchemize messages from the unconscious, that come in through the trance state, into actionable lifestyle adjustments. We invite partners and loved ones to assist you as chaperones for the medicine journey sessions. We offer KAP for clients who agree that breaking out of ordinary states of consciousness and patterns of thinking can bring relief from ongoing suffering and insight to do the work to thrive in life.