In this article, we explore the health benefits of both non-hallucinogenic medicinal mushrooms and psychedelic psilocybin mushrooms. Both have therapeutic potential which is now backed by clinical and scientific research. Find out what's trending in the health sector and how you can become educated about psilocybin through online coursework.
---
For thousands of years, medicinal mushrooms have been used within Eastern medicine to support optimal health. Today, everyone seems to be talking about the health benefits of medicinal mushrooms. Mycologist and psychedelic celebrity Paul Stamets has promoted his therapeutic mushroom brand Host Defense for years. Stamets claims that mushrooms are a functional food that can boost immunity, support digestion, and reduce stress and fatigue. 
Gwyneth Paltrow, who never misses a hot trend, sells Mushroom Hot Cacao Mix with reishi in her Goop store while taking the Goop staff on psychedelic mushroom retreat. Meanwhile, science is looking to medicinal mushrooms to study anti-cancer properties and psilocybin's capacity to treat intractable depression.
The surprise hit move of 2019, Fantastic Fungi, also put medicinal and hallucinogenic mushrooms squarely in the spotlight. The movie weaves a tale of the "medicinal world of fungi and their power to heal, sustain and contribute to the regeneration on Earth." Quite a claim!
But, what are medicinal mushrooms, and are they the same as magic mushrooms, which contain psilocybin, the psychedelic compound? 
This article will answer that question and explore the benefits of both medicinal and magic mushrooms. 
What are Medicinal Mushrooms?
Do medicinal mushrooms get you high? Typically the term medicinal mushrooms refers to the thousands of mushroom species that are non-hallucinogenic. It can be a little confusing as magic mushrooms, or psilocybin mushrooms, are also referred to as a 'medicine'.
Medicinal mushroom benefits were recognized early on – dating back to the Greek physician Hippocrates who identified the Amadou mushroom as an anti-inflammatory agent as early as 450 BCE. And medicinal mushrooms have been used in Traditional Chinese medicine for thousands of years, mostly in powder form. 
The list of claimed medical benefits from consuming medicinal mushrooms include:
Immunity support
Full of antioxidants
Supports brain health
Balances blood sugar
Supports a healthy nervous system
Increased energy and stamina
Hormonal balance
Ability to fight certain types of cancers

Medicinal Mushroom Guide
Below is a brief guide on some common medicinal mushrooms which you'll find on the health food shelves at Whole Foods:
Reishi
Known to relax and calm the central nervous system, reishi helps many people achieve a better night's sleep. It's also used for weight loss and balancing the immune system. 
Lion's mane
Native Americans were known to use lion's mane topically to stop bleeding. It's also well-known for cognitive support and focus. So instead of reaching for that fourth cup of Joe, think about consuming this mushroom as a supplement.
Shiitake
Shiitake contains loads of natural copper, an element known to support blood vessels, bones, and the immune system. It also has eritadenine, which is known to reduce cholesterol levels. 
Chaga
Chaga mushrooms help fight inflammation and lower blood sugar. The Cleveland Clinic notes that mice consuming a Chaga supplement had a 60% reduction in tumor size in one cancer study.
Follow your Curiosity
Sign up to receive our free psychedelic courses, 45 page eBook, and special offers delivered to your inbox.
Medicinal Mushrooms for Pets
Medicinal mushrooms are not only good for humans, but they're also good for pets. Medicinal mushrooms are packed full of vitamins, nutrients and other essential minerals, so your pet can also benefits from taking them as a supplement. In addition to the mushrooms above, pets can also ingest cordyceps and maitake mushrooms. Look for a powdered medicinal mushroom supplement at your local pet store or shop online for a reputable brand.
Medicinal Mushroom Research
Medicinal Mushrooms for Immunity
What seems like a health fad touted by wellness gurus may in fact have merit. Turkey Tail is one of the most researched medicinal mushrooms. Studies in humans and animals suggest that a component of turkey tail, polysaccharide-K (PSK), may stimulate the immune system. 
Medicinal Mushrooms for Cancer
The U.S. Food and Drug Administration (FDA) recently approved a clinical trial for turkey tail extract for patients with advanced prostate cancer. A different clinical trial testing the effects of turkey tail extract with a vaccine treatment in women with breast cancer awaits approval from the FDA.
In yet another clinical trial, people suffering from gastric or colon cancer had a somewhat improved survival rate. While the compound lentinan, extracted from shiitake mushrooms, also showed improved survival rates for people suffering from colorectal and liver cancers.
Psilocybin – A Legitimate Medicine
While non-hallucinogenic mushrooms support various beneficial health outcomes, mushrooms containing psilocybin are now considered legitimate medicine. 
Psilocybin for Anxiety & Depression
Psilocybin in combination with therapy is rapidly becoming accepted as a promising new treatment for patients with depression, anxiety, and PTSD. Psilocybin alters people's consciousness, allowing access to the subconscious mind. Findings have shown that psilocybin-assisted psychotherapy lowers anxiety and improves mood without clinically significant adverse effects.
Researchers at Johns Hopkins University have recommended psilocybin be reclassified for medical use to treat depression and anxiety. This would take psilocybin from a Schedule I to a Schedule IV drug, indicating a lower potential for addiction.
As psilocybin becomes recognized for its ability to treat intractable depression, clinical studies including psychedelic-assisted therapy have ramped up. A recent randomized clinical trial in the medical journal JAMA Psychiatry found that "psilocybin-assisted therapy was efficacious in producing large, rapid, and sustained antidepressant effects in patients with major depressive disorder." 
In 2018 COMPASS received Breakthrough Therapy Designation from the FDA to research psilocybin for treatment-resistant-depression (TRD), and in 2019 the Usona Institute received the same designation for major depressive disorder.
Psilocybin – From Counter Culture to Mainstream
For thousands of years, psychedelics, including psilocybin, have been used in religious and cultural rituals to alter consciousness and connect to a deeper purpose. Its reputation as a medicine has been understood and embraced by indigenous tribes, counter-culture enthusiasts, and now with those engaged within today's psychedelic renaissance.
And, with a growing body of medical research supporting psilocybin's efficacy, the drug is on the cusp of becoming mainstream medicine. Esteemed research institutions like Johns Hopkins, NYU, and Imperial College London in the U.K. have all turned attention towards studying the beneficial medicinal effects of psilocybin in treating depression, PTSD, and even addiction.
Learn More About Psilocybin – an Online Course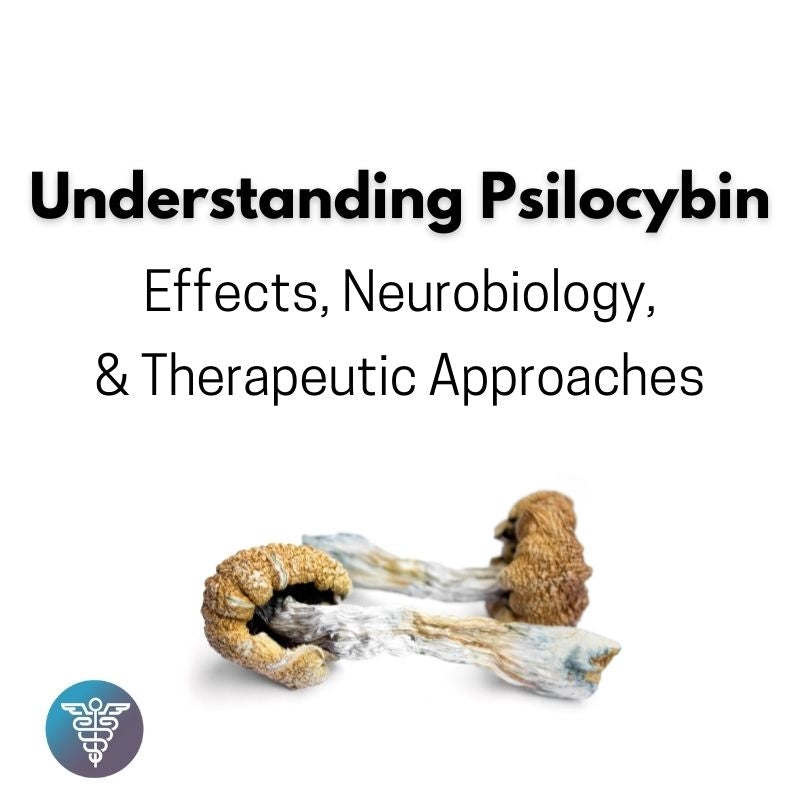 This online course provides a comprehensive summary of the pharmacology and effects of psilocybin, how it works in the brain, and why people can have mystical experiences and sensory-perceptual shifts. Become knowledgeable on clinical protocols, safety and efficacy results, study participant accounts, and potential risks in both medical and non-medical settings. 
Designed by leading psychedelic researchers, this class will teach you about the effects and safety aspects of psilocybin while exploring different therapeutic approaches for psilocybin treatment. The course is perfect for health professionals, professionals interested in psychotherapy training, and anyone curious about the science and therapies behind psilocybin mushrooms.
To earn CME credits, you'll choose the Continuing Medical Education (CME) option for:
9 hours of continuing education (CE/CME) credits
CE Certificate for licensed professionals including psychologists, therapists, social workers, etc.
CME Certificate (AMA PRA Category 1 Credit™) for doctors, nurses, medical professionals, etc.
See below for more information about continuing education accreditation.