Creating the Ceremony within Ketamine-Assisted Psychotherapy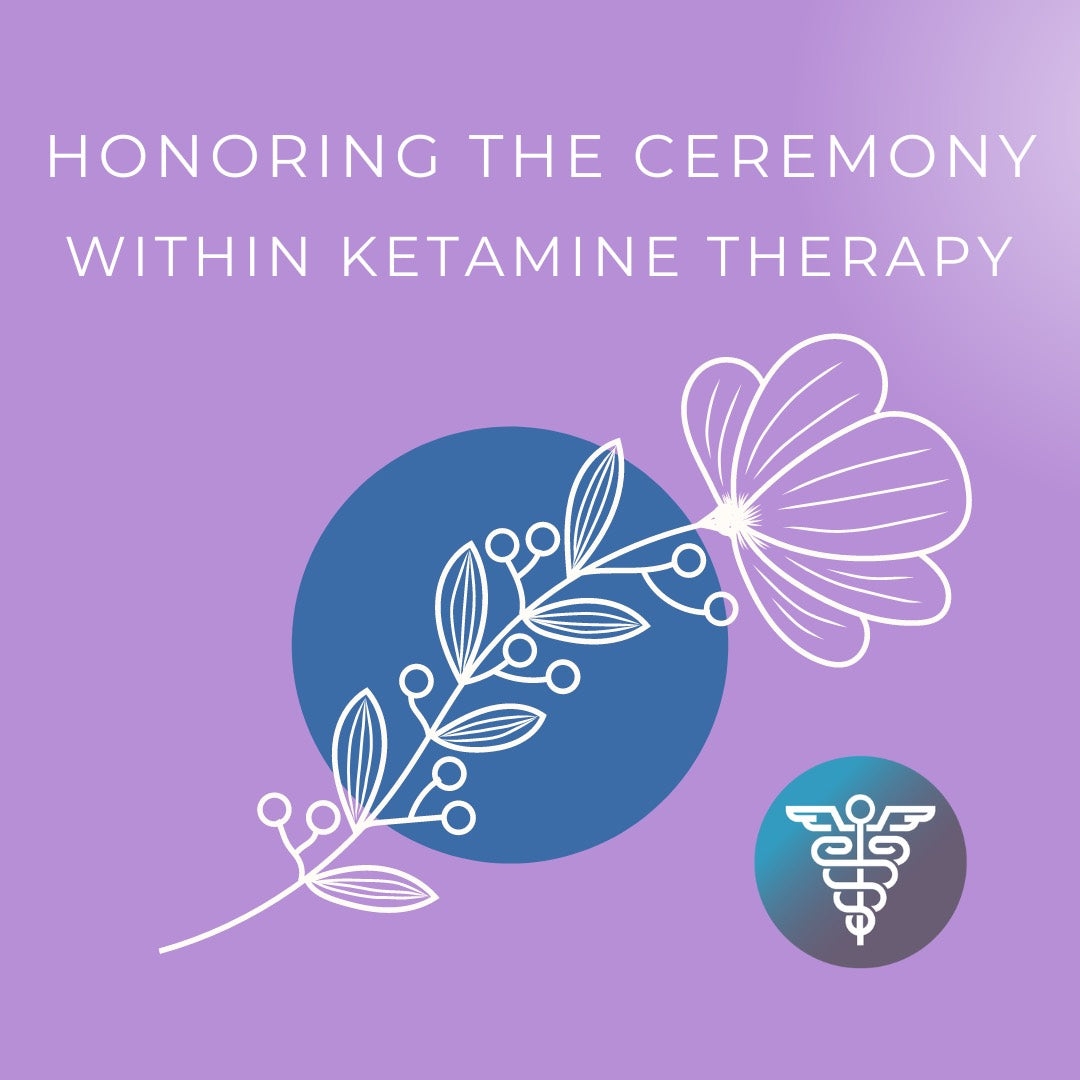 Creating the Ceremony within Ketamine-Assisted Psychotherapy
One Year
Course Access
Risk Free
Guarantee
Evidence Based
Learning
The act of ceremony to aid healing has been with us through the ages. For thousands of years, people in many cultures have intentionally used psychedelics to gain spiritual insights and as a catalyst for mental well-being. Ecstasis, a synonym for 'non-ordinary state of consciousness' borrowed from the ancient Greeks, translates to "stepping beyond oneself".  
This experience within ketamine-assisted psychotherapy (KAP) aids the therapeutic process by creating flexibility in thinking, in order to reevaluate our sense of self, others, and the world. Many believe it is the non-ordinary state, regardless of the medicine facilitating, where healing lies, while others believe it is the psychological flexibility or increase in neural plasticity that create therapeutic shifts for individuals.  Regardless, when we are able to challenge the beliefs that drive so many of our ego pursuits and unhappiness, we open ourselves to possibilities for new purpose and meaning.



Who is this course for?

Whether you're an aspiring psychedelic therapist, a psychedelic guide, or a client considering seeking psychedelic therapy treatment, we hope this course supports you in creating ceremony for your medicine sessions.


Brief history of ceremony
Definitions

Examples in human history
Ritual
Elements of ritual

Importance and meaning of rituals
Defining ketamine-assisted psychotherapy
What it is

What is done in our clinic

Brain science in the KAP session
Ideas for bringing in ceremony into
KAP or other NOSC experiences

Our personal and professional lives
Explorations of psychological growth
How a sense of awe may impact this

Define transformative experiences
After this course, you will be able to:
Discuss the importance of ceremony during ketamine-assisted psychotherapy (KAP).

Discuss "set" and "setting" considerations when using KAP to create a comfortable and safe therapeutic container for clients.

Explain aspects of a non-ordinary state of consciousness (NOSC).

Describe ways to encourage transformative experiences during non-ordinary states.
Professional Continuing Education
In support of improving patient care, Psychedelic Support offers continuing education for health providers through the the American Psychological Association (APA).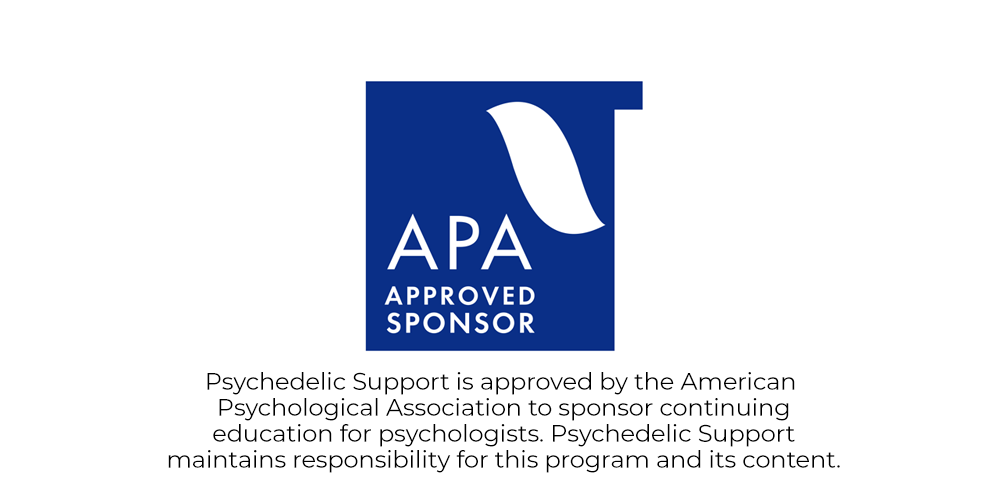 Thank you for offering innovative courses to support individuals pursuing a career in Psychedelic Assisted Treatments!
As a witness/guide for others through KAP and other psychedelic-assisted psychotherapies, this was a great course on the importance and history of intention and ritualistic ceremony! Great course!
Meet your Course Instructors, Contributors, & Peer Reviewers:
Kate runs a group private practice in Tucson, AZ that specializes in working with LGBTQIA+ clients, people in ethically non-monogamous relationships and people seeking psychedelic integration therapy and ketamine-assisted psychotherapy. She has long been interested in non-ordinary states of consciousness and believes in the healing wisdom of plant medicines. She is a graduate of the CIIS Center for Psychedelic Studies and Research and her practice has applied to establish eligibility with MAPS PBC to offer MDMA-assisted psychotherapy if it becomes an approved treatment. She is also the co-creator of Southwest Love Fest, a conference on relationships, identity, and community. Kate's therapeutic style is informed by feminism and social justice, seeking to help collectively dismantle systems of violence and oppression. She believes that many issues clients come to therapy with are rooted in a logical response to an oppressive system that is then pathologized and stigmatized. She has an eclectic and intuitive approach that is influenced by attachment theory, humanistic psychology, somatics, and neuroscience.
Kate Kincaid, LPC
Licensed Professional Counselor
Tucson Counseling Associates, Soma Psychedelics
Erica a clinical therapist with Tucson Counseling Associates. As a therapist, she honors what makes us unique and appreciates each individual experience. Erica has 20+ years of experience working with adults, youth and families. Erics is also a Multidisciplinary Association of Psychedelic Studies (MAPS) trained Ketamine-Assisted Psychotherapist. Erica believes that feelings of detachment to Self and others are often linked with many mental health challenges and that tapping into positive feelings of connection allows us to figure out who we are and what we truly value. Ketamine is a legal psychedelic that can promote feelings of connection and compassion. The experience of ketamine along with the production of new neural pathways provides the basis for intentional change. Erica offers a safe, therapeutic relationship that supports one's practice of shifting perspectives and in turn, one's experience of the world.
Erica Saunders, LCSW
Licensed Clinical Social Worker
Tucson Counseling Associates, Soma Psychedelics
Online platform access: 1 year
100% student satisfaction or money back guarantee

Self-paced course includes:
Video (75 mins)

Reading Assignments

Course slides and resources including references, books, and website links

Discussion forum to engage with other learners and instructors

Knowledge checks

1 year access to our online learning platform

Invite to our

monthly speaker series

and access to videos from our past events

Official Psychedelic Support Certificate

Optional 1-hour of continuing education (CE) credit f

or licensed professionals including psychologists, therapists, social workers, etc.
Interested in the different certificate options for our courses? Read on to learn more:
Learn more about Completion Certificate
+
Once you complete the course you will receive a Psychedelic Support Certificate of Completion. Choose this option if you are not a licensed health provider and do not need continuing education credit for your professional degree.
Learn more about CE Credit Certificate
+
Once you complete the course you will receive a Psychedelic Support CE Certificate. Choose this option if you are a licensed health provider who would like continuing education credit for your professional degree.
Be sure to select the CE credit option when purchasing the course.
Upon completion of the course, you will receive a Certificate of Attendance for your credits.
CE credits for psychologists are provided by Psychedelic Support, an APA-approved CE sponsor.
Psychedelic Support is approved by the American Psychological Association to sponsor continuing education for psychologists. Psychedelic Support maintains responsibility for this program and its content.
The California Board of Behavioral Sciences accepts CE credits for LCSW, LPCC, LEP, and LMFT license renewal for programs offered by approved sponsors of CE by the American Psychological Association.
LCSW, LPCC, LEP, and LMFTs, and other mental health professionals from states other than California need to check with their state licensing board as to whether or not they accept programs offered by approved sponsors of CE by the American Psychological Association.
For questions about receiving your Certificate of Attendance or questions about CE, contact Psychedelic Support at info@psychedelic.support.