Foundations in MDMA Safety, Therapeutic Applications & Research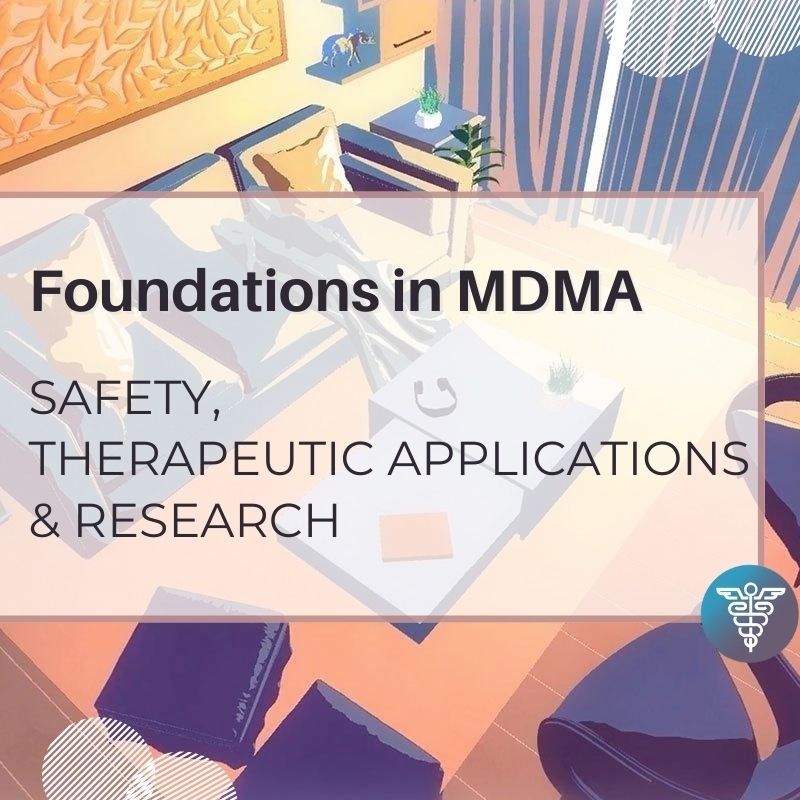 Foundations in MDMA Safety, Therapeutic Applications & Research
One Year
Course Access
Risk Free
Guarantee
Evidence Based
Learning
Through interactive eLearning, this course provides an in-depth summary of the pharmacology and effects of MDMA, and how it modulates neural circuits to induce changes in mood, cognition, and behaviors. Explore the MDMA-assisted psychotherapy approach and become informed on clinical protocols and trial findings. You will explore several hypotheses on how MDMA may be working in the brain during psychotherapy sessions and why this technique is being studied for treating many different mental health conditions.
This course covers the safety and risks of MDMA, also known as Ecstasy, in both medical and non-medical settings. Designed by leading MDMA researchers and therapists, you will learn evidence-based information and observations from therapists who administered MDMA-assisted psychotherapy in clinical trials. If you're a mental health professional, be sure to select our continuing education option and earn CE along the way!
Self-paced course includes:
6 hours of MDMA learning content
Interactive eLearning modules with narration
Interviews with psychedelic therapists, medical doctors, researchers, and neuroscientists
Animations and detailed graphics of complex topics
Conversations with therapists and academic researchers around special topics
Discussion forum to engage with other learners and instructors
Knowledge checks throughout the course
Assignments to further advance your knowledge and comprehension
Downloadable course notes and narration scripts
Downloadable reference lists with cited publications and links
Downloadable resource documents with suggested videos, books, articles, and websites
1-year access to our online learning platform
Invite to monthly speaker series and access to past event videos
Official Psychedelic Support Certificate of Completion
Choose the Continuing Education (CE) or Continuing Medical Education (CME) option for:
Continuing education (CE/CME) credits

CE Certificate for licensed professionals including psychologists, therapists, social workers, etc.

CME Certificate (AMA PRA Category 1 Credit™) for doctors, nurses, medical professionals, etc. (includes 1 hour of introductory material and 6 hours of MDMA content for 7 AMA PRA Category 1 Credits™)

See below for more information about continuing education
This course is perfect for mental health professionals, neuroscience students, and anyone interested in gaining insight into the science and therapies under investigation. 
Module 1: A Simple Molecule with Complex Effects: MDMA Pharmacology, Effects, and Safety
Explain how MDMA acts in the brain and body to produce psychological and physiological effects
Assess contraindicated medical conditions and medications for MDMA use
Describe common reactions and adverse events associated with MDMA and how risks differ between non-medical and clinical contexts
Analyze neuroimaging studies of Ecstasy users
Module 2: Neurobiological Effects of MDMA: Brain Circuits to Behavior
List the common subjective effects of MDMA
Describe research findings from studies that investigated effects of MDMA on social reward, cognitive and emotional empathy, and language
Discuss key neural circuits involved in the effects of MDMA
Module 3: Clinical Trial Findings of MDMA-assisted Psychotherapy for Treatment of PTSD and Other Psychiatric Indications
Explain the drug development pathway for MDMA (phase 1 trials to potential New Drug Application)
Describe phase 2 and 2 clinical trial methods, screening, and study designs of MDMA-assisted psychotherapy
Discuss safety and efficacy findings of MDMA-assisted psychotherapy for treatment of posttraumatic stress disorder, anxiety associated with a life-threatening illness, and social anxiety in autistic adults, and how results compare to currently available treatments
Module 4: MDMA Therapeutic Approaches and Psychological Mechanisms
Explain the methods of MDMA-assisted psychotherapy described in the MDMA Treatment Manual
Describe possible psychological mechanisms involved during MDMA therapy
List other indications or therapeutic approaches investigating MDMA
Webinar & Interviews
Psychedelic Research: A Conversation on Psychiatric Indications, Mechanisms of Action, & Limitations of Trial Findings with Alan Schatzberg, MD and Boris Heifets, MD, PhD, moderated by Allison Feduccia, PhD
Interviews with MDMA-assisted psychotherapy trial therapists Genesee Herzberg, PsyD, Evan Sola, PsyD, and Sylver Quevedo, MD
Accredited By Professional Organizations
In support of improving patient care, Psychedelic Support offers continuing education for health providers through the Accreditation Council for Continuing Medical Education (ACCME) and the American Psychological Association (APA).
I recently took both the MDMA and Psilocybin courses, and they both seemed largely illustrative. Its content is very complete and professional...the design of the courses has a good level of aesthetics and didactics. The ease of being able to take the course at your own pace complements the package perfectly. I highly recommend them!
It's a fantastic course! I learned so much more about the current research in this course than I've seen anywhere else. It's very comprehensive. The depth of work that's gone into it is very clear and much appreciated.
Psychedelic Support has been a wonderful launch-pad out of the entheogen closet! As someone involved in professional clinical spaces as a therapist and also in medicine church spaces as a shamanic practitioner, I've found great benefit from the education as well as being personally connected to a safe network of like-minded psychedelic renaissance folks of various specialties. Our shared resources and collaborations are collectively taking this movement to the next level. Thanks to the Psychedelic Support team for bringing people and knowledge together!
I found the course modules easy to use and complete, and the material accurate. I loved the presentation concerning the social neuroscience of MDMA; this content might continue to evolve over time. I also appreciated attempts to connect levels of analysis, from receptors to setting. The scope of the course will mean greater need for revision as new information is gained, but also permits a more accurate understanding of what MDMA is doing, and specifically what it is doing in a psychotherapeutic context.
The Foundations in MDMA course was well thought out, concise, and informative. It covers all the vital knowledge points in and easy to follow, intuitive fashion, at your own pace. You can get the most out of this course by accepting the invitations to further your own knowledge with curious exploration of the additional resources.
I found this a comprehensive and in-depth course that has helped me to fully understand and grasp the therapeutic advantages, pharmacology and physiological aspects of MDMA-assisted psychotherapy, whilst at the same time bringing focus to the risks, and mitigating reducing any harmful contraindications. I highly recommend this course for any person who may be a provider or recipient of MDMA-assisted psychotherapy to acquire the basic, but comprehensive knowledge, of the therapeutic application of MDMA.
The Foundations in MDMA Safety, Therapeutic Applications & Research course is fantastic! It covers the topics from so many different perspectives. The information provided is well documented with detailed references. The presenters are all very qualified and deliver the information in a clear, easy to understand way. The design of the written presentation was excellent. It was both easily digestible and added a great deal to the presentation. I can't recommend this highly enough.
Meet your Course Instructors, Contributors, & Peer Reviewers:
Allison Feduccia, PhD is a neuropharmacologist, psychedelic researcher, and a builder of virtual and in-person communities. She is the Co-Founder and Director of Psychedelic Support, an online directory of healthcare professionals, and
Project New Day
, a 501(c)(3) non-profit foundation focused on psychedelics for addiction recovery. In these roles, Dr. Feduccia facilitates the spreading of evidence-based knowledge, connection to resources, and strategies for communities to reduce risks of psychedelic use through safe and responsible practices. In 2009, she earned a PhD in neuropharmacology from the University of Texas at Austin studying the effects of MDMA on behavior and neurochemical release in non-clinical models. She was a postdoctoral researcher at the University of California San Francisco and at the National Institutes of Health (NIAAA/NIDA) where she investigated treatments for substance use disorders. Her work at MAPS Public Benefit Corporation (2015-2020) focused on psychedelic protocol designs, MDMA trial operations, data analyses, scientific writing, public education and outreach. Dr. Feduccia is deeply driven to advance the field of psychedelic medicine through ethical, legal, and scientifically-based frameworks.
Allison Feduccia, PhD
Neuropharmacologist
Psychedelic Support
Kile Ortigo, PhD is a clinical psychologist and founder of the
Center for Existential Exploration
, where he offers depth-oriented and evidence-based psychotherapy and psychedelic integration services. At the National Center for PTSD, Dr. Ortigo directed a national implementation program that paired telehealth coaching with web-based interventions, and led the VA LGBT Healthcare Fellowship Program as the national training director. In 2019, Dr. Ortigo completed the California Institute of Integral Studies' Certificate in Psychedelic-Assisted Therapies & Research program where he was closely mentored by Dr. Bill Richards. He now serves on advisory boards of Psychedelic Support and Project New Day, a non-profit exploring how psychedelics facilitate addiction recovery. He recently co-authored
his first book
, the 2nd edition of
Treating Survivors of Childhood & Interpersonal Trauma: STAIR Narrative Therapy
. With support from several psychedelic experts, Dr. Ortigo is currently writing a second book that explores intersecting themes of psychedelics, mythology, and existential thought. This book's reflection activities, meditations, and worksheets will support either independent exploration or psychedelic psychotherapy phases of preparation and integration. It will be widely available in 2021.
Kile Ortigo, PhD
Clinical Psychologist
Center for Existential Exploration
Boris Heifets, MD, PhD has had a lifelong interest in neuroscience and hopes to apply basic neuroscience insights to the practice of anesthesiology and perioperative medicine. He is currently an assistant professor in the Department of Anesthesiology & Perioperative Medicine at the Stanford School of Medicine. He received his undergraduate degree in neuroscience from Yale University, MD/PhD degree from the Albert Einstein College of Medicine, and completed anesthesiology residency and a neuroanesthesiology fellowship at Stanford Hospital. Dr. Heifets' basic and clinical research aims to understand the mechanisms of action for emerging rapid-acting treatments for psychiatric disease, including ketamine, MDMA and psilocybin, and how they might be incorporated into perioperative clinical care to improve patient outcomes. During his time at Stanford he has collaborated extensively with the psychiatry department, publishing animal studies on the neural mechanism of social behavior and MDMA, and a controversial study which described an opioid receptor-dependent mechanism for ketamine's antidepressant effect. He is currently supported by a K08 award from the National Institute of Mental Health.
Boris Heifets, MD, PhD
Assistant Professor
Stanford University School of Medicine
Alan Schatzberg, MD is a Professor, in the department of Psychiatry and Behavioral Sciences at Stanford University School of Medicine. He is a psychiatrist who is an active investigator in the biology and psychopharmacology of depressive disorders, and has contributed substantially to the field of psychiatry over his career. He has formally served as President, American Psychiatric Association (2009 – 2010); President, American College of Neuropsychopharmacology (1999 – 2000); President, Society of Biological Psychiatry (2006 – 2007). Today he continues to closely follow and advise on psychedelic trials investigating psychedelic substances.
Alan Schatzberg, MD
Professor
Stanford University School of Medicine
Evan Sola, PsyD is a licensed clinical psychologist in
private practice
in San Francisco and Berkeley, and a psychedelic researcher in FDA clinical trials for MDMA-assisted psychotherapy for PTSD at UCSF and Polaris Insight Center. He has a background in trauma-informed psychodynamic and Jungian psychotherapy, and uses dreams to explore attitudes unconscious to the waking self. He provides psychedelic integration for those exploring non-ordinary states, spiritual emergencies, grief, and overwhelming life adjustments, and offers ketamine-assisted therapy for depression and acute suicidality at
Sage Integrative Health
.
Evan Sola, PsyD
Clinical Psychologist
Private Practice
Dr. Genesee Herzberg is a clinical psychologist practicing psychotherapy and ketamine assisted therapy in Berkeley, CA, along with MDMA-assisted therapy through the MAPS Phase 3 clinical trials. She is co-founder of
Sage Integrative Health
, a holistic psychedelic clinic, and its sister nonprofit,
Sage Institute
, a sliding scale psychedelic clinic, research, and training center. Genesee co-developed the program and curriculum and is core faculty for Sage's ketamine assisted therapy training. Genesee is passionate about making psychedelic medicine accessible to everyone who can benefit. When not wearing one of her many hats in the psychedelic field, Genesee can be found on meandering walks in the Berkeley hills, exploring the far reaches of consciousness, or delving into her newfound love for sci-fi novels.
Genesee Herzberg, PsyD
Clinical Psychologist
Sage Integrative Health
Sylver Quevedo, MD has been in continuous practice of medicine for 40 years and practices nephrology, family, internal, and integrative medicine. He is the Co-Founder and Medical Director at Polaris Insight Center and serves as Assistant Professor at Stanford and the University of California, San Francisco. He has played pivotal roles in several global health projects, including planning and development of a medical and nursing school in Africa. Dr. Quevedo is trained in MDMA-assisted psychotherapy and has worked as a therapist on MDMA phase 2 and phase 3 trials.
Sylver Quevedo, MD
Medical Director
Polaris Insight Center
Lauren Lepow, MD
Peer Review
Lauren Lepow, MD is a fourth-year psychiatry resident at Mount Sinai in the NIMH-supported PhD+ neuroscience track. Lauren's research interests are in the field of PTSD and include neuroimaging, natural language processing, and investigating the neural mechanisms underlying psychedelic-assisted-psychotherapy. Her clinical interests include psychoanalysis and holistic approaches to healing trauma. Lauren's graduate school studies are with both Muhammad Parvaz's Motivational and Affective Psychopathology lab and Rachel Yehuda's lab which studies the neurobiology of PTSD at the James J. Peters VA Medical Center in the Bronx. Lauren was born and raised in Houston and completed medical school at the McGovern Medical School at the University of Texas. She has also spent time at the NIMH in the Experimental Therapeutics & Pathophysiology Branch studying the mechanism of ketamine for treatment-resistant depression. Lauren enjoys biking around NYC, immersive theatre, high-intensity-interval training and exploring the world with her husband and cat.
Lauren Lepow, MD
Psychiatry Resident
Icahn School of Medicine at Mount Sinai
Online platform access: 1 year
For the best experience, we recommend taking the course on a tablet or computer.
100% Student Satisfaction or money back guarantee.
Course FAQ can be found here.
Interested in the different certificate options for our courses? Read on to learn more:
Learn more about Completion Certificate
+
Once you complete the course you will receive a Psychedelic Support Certificate of Completion. Choose this option if you are not a licensed health provider and do not need continuing education credit for your professional degree.
Learn more about CE Credit Certificate
+
Once you complete the course you will receive a Psychedelic Support CE Certificate. Choose this option if you are a licensed health provider who would like continuing education credit for your professional degree.
Be sure to select the CE credit option when purchasing the course.
Upon completion of the course, you will receive a Certificate of Attendance for your credits.
CE credits for psychologists are provided by Psychedelic Support, an APA-approved CE sponsor.
Psychedelic Support is approved by the American Psychological Association to sponsor continuing education for psychologists. Psychedelic Support maintains responsibility for this program and its content.
The California Board of Behavioral Sciences accepts CE credits for LCSW, LPCC, LEP, and LMFT license renewal for programs offered by approved sponsors of CE by the American Psychological Association.
LCSW, LPCC, LEP, and LMFTs, and other mental health professionals from states other than California need to check with their state licensing board as to whether or not they accept programs offered by approved sponsors of CE by the American Psychological Association.
For questions about receiving your Certificate of Attendance or questions about CE, contact Psychedelic Support at info@psychedelic.support.
Learn more about CME Credit Certificate
+
Once you complete the course you will receive a Psychedelic Support CME Certificate. Choose this option if you are a licensed health provider would like continuing education credit for your professional degree.
This activity has been planned and implemented in accordance with the accreditation requirements and policies of the Accreditation Council for Continuing Medical Education (ACCME) through the joint providership of CME Consultants and Psychedelic Support. CME Consultants is accredited by the ACCME to provide continuing medical education for physicians.
AMA PRA Category 1 Credit™ for non-physicians: There are other disciplines that may accept AMA PRA Category 1 Credit™ as equivalent CE or CEU for re-licensure or recertification, including, but not limited to, Nurses, Nurse Practitioners, Physician Assistants, Pharm D's, and Psychologists. It is advisable for you to verify equivalency with your specific governing body, as state boards vary in their requirements.
Credit Designation Statement
CME Consultants designates this online enduring material activity for a maximum of 7 AMA PRA Category 1 Credits™. Physicians should claim only the credit commensurate with the extent of their participation in the activity.
Target Audience
This activity is geared to meet the educational requirements of Healthcare Providers from a range of disciplines: Physicians, Psychiatrists, Psychologists, Therapists, and LCSWs who will participate in or form interdisciplinary teams, or practice independently.
Core Competencies
This activity encompasses the following desirable physician attributes: Patient Care & Procedural Skills, Medical Knowledge, Professionalism, and Practice-Based Learning & Improvement.
Format
The presentational methods for this activity are Lecture and Small Group Discussion/Roundtable. The course content has been peer-reviewed for content validity and found to be evidenced-based, fair, balanced, and free from commercial bias.
Commercial Support
There is no commercial support for this activity.
Release Date
This activity was released for credit on November 22, 2021.
Review Date
This activity was reviewed on August 25, 2022.
Termination Date
This activity is valid for credit through August 27, 2024.