Psychedelic Therapy Continuing Education Series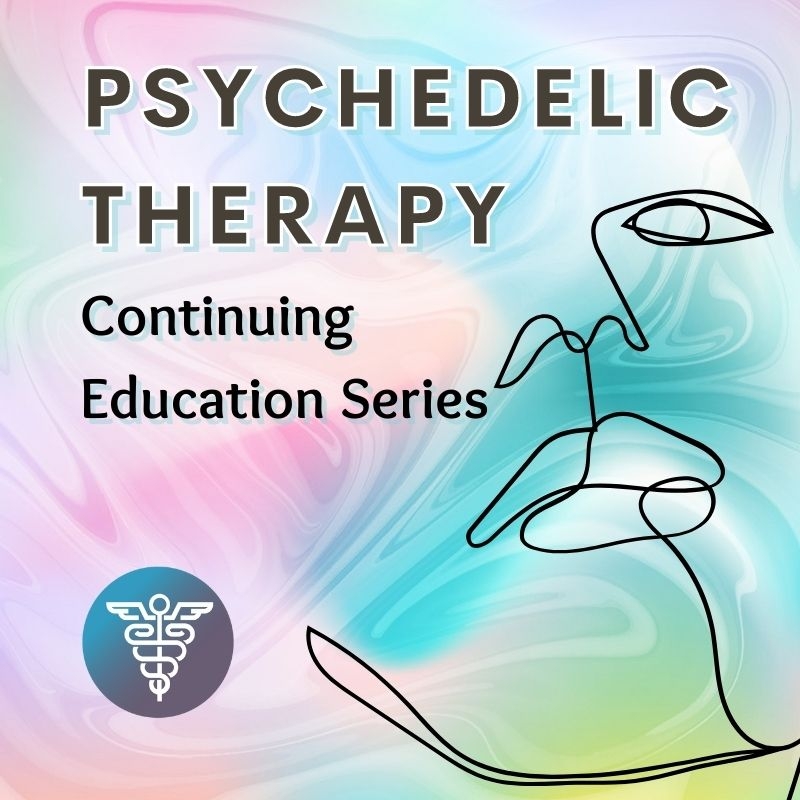 Psychedelic Therapy Continuing Education Series
One Year
Course Access
Risk Free
Guarantee
Evidence Based
Learning
The psychedelic medicine field is rapidly evolving. Thanks to modern-day research, our understanding of how psychedelic therapy can be applied for mental health is opening the door for new approaches to wellness.
Each month we host an expert speaker to share innovations in psychedelic medicine, best practices for safety and harm reduction, evidenced-based therapeutic approaches, research findings, and tips for health professionals working in this field.
Learn how to support your clients and stay up-to-date on the most relevant opportunities for health providers. Chat and network with other attendees through the webinar chat features. We're here to learn from each other and strengthen our ties as a community.

Join the live monthly event to hear presentations and QA with speakers. Watch the video replays and complete your CE quizzes at any time.
Self-paced course includes:
Invite to our live-online monthly webinars
Presentations by psychedelic therapists, medical doctors, researchers, and psychologists
QA with speakers
Chat at live events to engage with other learners
Access to past webinar videos
Downloadable resources documents with suggested videos, books, articles, and websites
1-year access (annual) to our online learning platform 
CE Certificate after completing quizzes for each webinar
By enrolling in this course, you will receive email invites to join our monthly live-online events. Live event times vary. Videos of speaker events qualifying for CE credit will be added to the course after each live webinar.
$120 for an annual subscription to all past and future CE webinars!
Webinar 1: Beyond the Narrow Life: A Guide for Psychedelic Integration & Existential Exploration with Kile Ortigo, PhD
Non-ordinary states of consciousness can elicit profound questions about oneself, the universe, and our place in it. By way of the Hero's Journey, we explore common topics that emerge during psychedelic journeys and several frameworks for integrating these experiences. Dr. Ortigo describes how psychedelic integration practices can draw from evidence-based cognitive-behavioral therapy, Jungian depth psychology, existential philosophy, compassion and mindfulness practices, comparative mythology, pop culture, film, and scientific research.
Kile Ortigo, PhD is the founder of the Center for Existential Exploration where his work is driven by exploring personal values, spirituality, underlying emotions, and recovery from painful life experiences. A research-trained clinician, Dr. Ortigo's expertise in personality, attachment, trauma, and care delivery models of psychotherapy have led him to a career of advancing therapeutic protocols and manuals for clinical care, and personal growth through integrating evidence-based approaches with technology for the National Center for PTSD. Dr. Ortigo additionally serves on the CE committee at Psychedelic Support. His psychedelic work is informed by the ineffable, the cosmos, the experience of awe, the nature of reality, and symbolism which has culminated in his newest book Beyond The Narrow Life: A Guide for Psychedelic Integration and Existential Exploration.
Earn 1 CE credit
Course Learning Objectives
Discuss how evidence-based therapies can be applied to psychedelic integration practices.

Apply the hero's journey to topics that may emerge for clients during a psychedelic experience.
Webinar 2: Using Psilocybin Mushrooms in Patients on Antidepressants with Erica Zelfand, ND
What does psilocybin-assisted therapy look like when clients enter the clinic on antidepressant medication? Common practice is to tell patients on SSRIs and other prescription drugs that they must stop taking their psychiatric medications before they can safely take psilocybin, but neither anecdotal evidence nor the scientific literature support this. Researchers and practitioners alike are eager to find effective evidence-based treatment to assist people with anxiety, depression, and other disorders that require pharmaceutical intervention.
In this presentation, we discover the interplay between antidepressant medications and psilocybin. We review the pharmacology of these substances and consider new research on how clinicians can understand and utilize modern psychedelic research to assist clients.
Earn 1 CE credit
Course Learning Objectives
1. Describe how psilocybin and SSRIs affect neuroplasticity of the brain.
2. Identify combinations of substances that affect serotonin syndrome.
3. Assess the risk of taking SSRIs with psilocybin.
Dr. Erica Zelfand is a licensed family doctor, ketamine provider, and psychedelic facilitator. Specializing in functional medicine and integrative mental health, she is well versed in pharmaceutical, nutritional, botanical, somatic counseling-oriented, and psychedelic approaches to healing. She also teaches psychedelic facilitation at InnerTrek in Oregon.
Webinar 3: Microdosing Research: The Next Frontier for Clinical Trials and Therapeutics with Jim Fadiman, PhD
The term "microdosing" was coined by Dr. Jim Fadiman to describe taking very small doses of a psychedelic substance. Many have reported benefits of microdosing for mental health, creativity, and well being. Yet evidence from controlled clinical trials is lacking. Here we examine the changing landscape of microdosing research, clinical trials, and the potential applications of microdosing in therapeutic practices.
The esteemed Jim Fadiman, PhD, is the foremost expert on microdosing best known for his large body of psychedelic research and classic psychedelic literature such as The Psychedelic Explorer's Guide: Safe, Therapeutic, and Sacred Journeys. His latest endeavor with Dr. Jordan Gruber, Your Symphony of Selves: Discover and Understand More of Who We Are explores the concept of personality multiplicity and the ability to work with different selves in various situations.
Earn 1 CE credit
Course Learning Objectives
List the difference in effects between a microdose and full dose of psychedelic substances.

Discuss the outcomes of current microdosing research.

Describe microdosing protocols and amounts for different psychedelic substances.
Webinar 4: After the Ceremony: What Clinicians Need to Know About Ayahuasca Integration with Kerry Moran, MA, LPC
Ayahuasca is a complex and potent plant medicine that's spreading worldwide. The experiences can generate moments of terror and bliss, and excavate unconscious material to be seen, addressed and, eventually, resolved. How can we support clients after their ayahuasca ceremony? This talk covers the common insights (and fears) that people emerge with after ceremonies, and offers specific guidance for the emotional and somatic resourcing that's often needed following what can be an intense and sometimes overwhelming experience.
Integration is crucial to helping clients incorporate their unique experiences into the entire journey of their lives. Kerry Moran, MA, LPC offers expertise in maximizing the impact of integration work, sitting with clients in the shadows, and facilitating connection across cultures when working with ayahuasca.
Kerry Moran, MA, LPC is a graduate of the Counseling Psychology program at Pacifica University. Since then, she has worked in private practice as a present-centered psychotherapist, blending the wisdom of depth psychology (Jung, Hillman) with the non-dual teaching of Tibetan Buddhism and meditation.
Interested in an ayahuasca integration program? Integrating Ayahuasca is a 10-week online course developed by Kerry Moran to inspire and support your post-ceremony transformation. Each week you'll receive a link to a new class packed with practical guidance, practices and exercises specifically keyed to integration.
Earn 1 CE credit
Course Learning Objectives
Describe the importance of utilizing integration practices with clients who have taken ayahuasca.

Identify Indigenous and modern integration techniques.
Webinar 5: Inbodied Integration: Supporting Clients and Clinicians in Taking Psychedelic Experiences Forward with Lauren Taus, LCSW
Integration is the name of the game with psychedelic-assisted therapies, and is essential for any enriching experiences with psychoactive medicine. In order to effectively support others in living the truths that emerge from journeys, every clinician in the field must know the landscape of the medicine that they facilitate from their own psyche.
In this CE webinar with Lauren Taus, LCSW, we learn about leading integration with action-oriented meaning and explore how to creatively approach psychedelic integration sessions in a way that anchors good, encourages clients to actively shift their mindset, and how to shed what's needed in order to make meaningful change that aligns with their highest good.
Earn 1 CE credit
Course Learning Objectives
1. Explain the importance of whole-bodied integration before, during, and after psychedelic-assisted therapies.
2. Prepare clients for their journey with legal psychedelic medicines.
Lauren Taus, LCSW is a psychedelic-assisted therapist, trained to work with both psychoactive compounds and plant medicines. Lauren leads Inbodied Life, a Psychedelic-Assisted Therapy and Integration training while also running a group practice based in Los Angeles. Lauren is a lifelong student, educator and activist.
Webinar 6: Are Psychedelics Right for my Patients? With Dave Rabin, MD, PhD
Clinical trials of MDMA- and psilocybin-assisted therapy are investigating these novel treatments for PTSD, depression, eating disorders, anxiety related to life-threatening illness, and addiction disorders. Ketamine is currently prescribed off-label for these conditions, and esketamine is FDA-approved for depression indications. As we anticipate the future of psychedelic medicine, how will clinicians decide what is the best and safest treatment for their patient?
In this talk, we explore what is known for safety and effectiveness for patients when it comes to utilizing psychedelic medicines such as ketamine, MDMA, and psilocybin. We look at the drug effects and safety, screening practices, and how to evaluate risk factors to ensure quality care.
Earn 1 CE credit
Course Learning Objectives
1. Demonstrate knowledge of administration, subjective effects, and adverse reactions of ketamine, MDMA, and psilocybin.
2. Analyze and detect barriers to administering potential psychedelic treatments with clients meeting certain diagnostic criteria.
Dave Rabin MD, PhD is a board-certified psychiatrist, neuroscientist, entrepreneur, and inventor who has studied resilience and the impact of chronic stress on our lives for over 15 years. At his Apollo Clinic, Dr. Rabin works with clients to empower them to take control of their mental and physical health by tapping into our abilities to adapt and heal ourselves. He is also the co-founder of Apollo Neuroscience, a wearable device for stress and mood regulation, and the executive director of The Board of Medicine, a 501(c)(3) nonprofit organization of world-renowned physicians and scientists establishing evidence-based clinical guidelines for unregulated alternative medicines, including plant medicines.
Webinar 7: Psychedelics and Psychotropics: Drug Interaction and Clinical Approach with Dr. Ben Malcolm
Do you understand how psychedelics and psychiatric medications interact? Several psychedelic substances are in late stage clinical trials. It's important for clinicians to understand clinically significant drug interactions.
Here we discuss drug interactions that are likely to significantly influence the safety and efficacy of psychedelic therapies with leading educator, psychopharmacological consultant, and Spirit Pharmacist, Ben Malcolm, PharmD, MPH, BCPP. We take a look at the pharmacokinetics and pharmacodynamics of well-researched psychedelics and common psychiatric medications.
Earn 1 CE credit
Course Learning Objectives
Describe the pharmacokinetics and pharmacodynamics of well-researched psychedelics and common psychiatric medications.

Explain interactions between psychedelic substances and other medications that pose safety risks or reduced effects.
Ben Malcolm PharmD, MPH aka The Spirit Pharmacist, earned his Masters in Public Health (MPH) and Doctorate of Pharmacy (PharmD) at Touro University California. After residency training he obtained Board Certification in Psychiatric Pharmacy (BCPP).
Dr. Malcolm's interests focus on the intersection between psychiatric medications and psychedelic therapies. Currently he provides psychopharmacology consulting services for clients and continuing education on psychedelics and psychotropic medications.
Webinar 8: The Legal Landscape of Psychedelic Therapy
The psychedelic renaissance and the legality of medicines are rapidly changing, calling for therapists, clinicians, providers, and policymakers to remain conscientious of this fast-moving world.

In this webinar, we discuss the current issues surrounding equitable and legal access to psychedelic therapy with Plant Medicine Law Group's Adriana Kertzer, JD, Hadas Alterman, JD from APPA, and Harry Nelson, JD from the largest healthcare and life sciences specialty law firm in Los Angeles. We explore the current legal landscape and discuss how this applies to clinical practice, policy, and research to all become better informed to practice in this emerging psychedelic medicine field.
Earn 1 CE credit
Course Learning Objectives
Identify legal and ethical considerations surrounding the recommendation, encouragement and discussion of psychedelic assisted practices as a clinician.
Utilize knowledge within legal boundaries of healthcare and life sciences to bring forth best clinical practice.
Webinar 9: Prescribing Connection: How Psychedelics Impact Love and Relationships
There's a lot of talk about the loneliness epidemic, but what if the real epidemic lacks social connection? Your social network matters to your health—online and in real life. Ten percent of women have no close friends. Fifteen percent of men have no close friendships at all, a fivefold increase since 1990. This webinar features a conversation with Molly Maloof, MD about the role psychedelics play in enhancing social connection and ethical challenges with using psychoactive substances in couples' therapy. We discuss human relationships, sexuality, love and attachment, healing trauma, and how psychedelics can be important tools for extending healthspan.
Earn 1 CE credit
Course Learning Objectives
Describe how social connections impact mental heal.
Explain how lifestyle optimizations can support love and relationships.
Discuss psychedelic research on social connection.

Molly Maloof, MD is passionate about extending healthspan through her medical practice, personal brand, entrepreneurial and educational endeavors. She provides personalized medicine to world class entrepreneurs, investors, and executives. Since 2012, she has worked as an advisor or consultant to over 50 companies in the digital health, consumer health, and biotechnology industries. She is the Founder of Adamo, a brand dedicated to optimizing human capacity and connection with consumer health products and educational media.
More webinars coming soon! Visit our speaker series page to see upcoming events.
Accredited By Professional Organizations
In support of improving patient care, Psychedelic Support offers continuing education for health providers through the Accreditation Council for Continuing Medical Education (ACCME) and the American Psychological Association (APA).
Meet your Course Instructors, Contributors, & Peer Reviewers:
Allison Feduccia, PhD is a neuropharmacologist, psychedelic researcher, and a builder of virtual and in-person communities. She is the Co-Founder of Psychedelic Support, a directory of healthcare professionals and educational platform, and Project New Day, a 501(c)(3) non-profit foundation focused on psychedelics for addiction recovery. In 2009, she earned a PhD in neuropharmacology from UT Austin studying the effects of MDMA on behavior and neurochemical release in non-clinical models. She was a postdoctoral researcher at UCSF and at the National Institutes of Health (NIAAA/NIDA) where she investigated treatments for substance use disorders. Her work at MAPS Public Benefit Corporation (2015-2020) focused on psychedelic protocol designs, MDMA trial operations, data analyses, scientific writing, public education and outreach. Dr. Feduccia is deeply driven to advance the field of psychedelic medicine through ethical, legal, and scientifically-based frameworks.
Allison Feduccia, PhD
Webinar Host
Psychedelic Support
Online platform access: 1 year
The webinars work well on mobile devices, tablets, and computers.
Interested in the different certificate options for our courses? Read on to learn more:
Learn more about CE Credit Certificate
+
Once you complete each webinar you will receive a Psychedelic Support CE Certificate. Choose this option if you are a licensed health provider would like continuing education credit for your professional degree.
Upon completion of each webinar, you will receive a Certificate of Attendance for your credits.
CE credits for psychologists are provided by Psychedelic Support, an APA-approved CE sponsor.
Psychedelic Support is approved by the American Psychological Association to sponsor continuing education for psychologists. Psychedelic Support maintains responsibility for this program and its content.
The California Board of Behavioral Sciences accepts CE credits for LCSW, LPCC, LEP, and LMFT license renewal for programs offered by approved sponsors of CE by the American Psychological Association.
LCSW, LPCC, LEP, and LMFTs, and other mental health professionals from states other than California need to check with their state licensing board as to whether or not they accept programs offered by approved sponsors of CE by the American Psychological Association.
For questions about receiving your Certificate of Attendance or questions about CE, contact Psychedelic Support at info@psychedelic.support.